Exciting changes are coming to The JOYFull Badass Business Academy!
Stay tuned for more updates and info as we unveil our new brand, community and signature programs designed to help BadAss Business Owners avoid or eliminate burnout by using JOY as a business strategy!
Over the last few months, I have been working on ideas for making the JOYFull BadAss Academy and our new, JOYFULL BadAss Network more empowering, inspiring, engaging and effective. Everything we do is meant to amplify the SuperPowers you already possess & help you stay in your JOYFull Zone of Genius.
In the meantime, you can subscribe to our
Friday 411 – a weekly newsletter
filled with Diversity, Equity, Inclusion and Belonging Resources OR Notes from the Fridge – Bi-weekly reminders of events and opportunities.
We can't wait to show you what we've been formulating! Get ready to UNLEASH YOUR JOYFULL BADASSERY for more TIME, MONEY, FREEDOM and JOY!
Want to know what else we've been up to?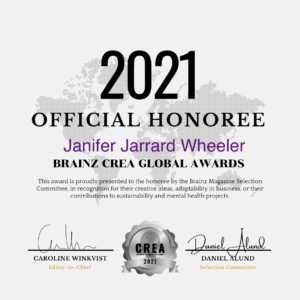 MEET THE JOYFULL BADASS WHISPERER™
Janifer Wheeler is a former teacher turned entrepreneur. She's spent over 25 years helping schools & small businesses get their shift together through process design, internal structure, education and workplace culture.  
She started The JOYFull BadAss Business Academy™, to help other BadAss female biz owners win the burnout battle using JOY as a business strategy. Her work-at-your own pace courses are delivered via MicroText making it easier to integrate into your daily routine. 
Her clients have gotten trapped by their own brilliance and believe the hype that you must hustle & grind or you will never be successful. No one at the JFBBA believes that BS. If it's not JOYFull, they aren't doing it. 
As an advocate for JOYFull alignment, she facilitates a process that ensures you are working in your JoyFull Zone of Genius more than you aren't. And for the rest of the shift that needs to be done, hand it over to staff or an assistant. 
It sounds scary –  giving other people control, but the JOYFull BadAss has your back. She will help you create the process, structure and workplace culture you need to effectively and efficiently build a team that will help you avoid business owner burnout and realize the goals & dreams you set for yourself. 
She enjoys connecting people through her global networks that include Netwomen.co, Mums at Work, Amazing Women Alliance, The JOYFull Badass Network, Polka Dot Powerhouse, Brainz Magazine, FEM and Entrepreneurs Rocket Fuel. There's no limit to what can be done when we lift each other up.
Want to know more about the signs, symptoms & solutions for burnout?  Take our FREE, 7 day course "Win the Burnout Battle by Living above the JOY Line" when you visit  https://wheelhouse.arist.co/courses.
"After 25 years in both the public and corporate classroom, I fully embraced my own badassery and became an entrepreneur. By combining many years of experience in business growth & development, along with a deep knowledge of teaching, learning and curriculum design, I've created a business that integrates with my highest values...freedom, personal development, and empowering others. ​That's MY Joy Factor."
Taking inspired action to BE THE CHANGE you want to see in your organization is no easy task. It takes a SHIFT TON of work. Crafting the perfect Diversity and Inclusion Improvement Plan (DIIP) requires a deep dive into your existing polices, procedures, processes and structure. It requires commitment, resources and subject matter experts to guide you on your journey. It includes FINDING JOY and using it to drive change. If you were rebuilding a car engine, wouldn't you want a licensed MECHANIC rather than an apprentice?
The JOYFull BadAss Academy™
​The JOYFull BadAss Academy™ : Personal and Professional Development for female Coaches, Consultants, Cntrepreneurs Small Biz CEOs and Subject Matter Experts delivered via MicroLearning modules designed to improve relationships with yourself, your business, your joy & your money. Check out our new programs: The JOY|Money Micro – program designed for coaches, consultants and small business owners that unlocks joy, productivity, clarity, time, freedom and MONEY! Teach What you Know: MicroLearning by DEIsign- in this course, I teach you how to create a MicroLearning Model that supports your business! Perfect for designing a lead magnet, low-end offer or full-blown E-course!
Mosaic Weighted Blankets | Waterloo Capital Electronic Creatives
Great American Smiles | Grace Lanni & All About That Brand
Endsource Consulting | Sees HR Consulting Hired Texas Job Club
HERdacity | LaunchPad Job Club
Women's Economic Forum (WEF)
Caddie Central | ​The Zebra
Austin LGBTQ Chamber of Commerce Member, ERG Committee 
Polka Dot Powerhouse, Chapter Leader
Amazing Women Alliance Inner Circle  
Texas Business Women, Past President
SpeakerHub| Black Fret  | Chi Omega  #IAMREMARKABLE 
Want to schedule your OWN event with Janifer?
She will definitely bring JOYFull BadAssery to your next conference, training session, or keynote.
ADD SOME JOYFull D&I TO YOUR INBOX
Subscribe to the Friday 411!
Each Friday 411 includes:
4 D&I Resources | 1 Quote | 1 Question 
along with invites to free workshops, new tools, games, exclusive offers and more!